All Dips Served with Pita Bread
Yogurt dip with cucumber, garlic & dill
Chickpea, tahini, lemon, olive oil, herbs and garlic
Whipped feta cheese with red chilies and herbs
Roasted eggplant & greek yogurt dip with tomatoes & garlic
Choice of three dips with pita bread
Falafel with Tzatziki Sauce
Ground Chickpea Fritters and Tzatziki Sauce for Dipping
Chicken and orzo pasta soup
Small – $6.00
Large – $15.00
Stuffed grape leaves with rice and beef served with tzatziki
Spinach and feta wrapped in crispy  phyllo dough and baked to perfection
Romaine lettuce, tomato, red onion, red pepper, cucumber, feta cheese, olives, capers and oregano. Served with OPA dressing. Anchovies by request.
GRILLED SALMON GREEK SALAD
A "Big Greek" salad with grilled salmon 
A "Big Greek" salad with shaved gyro meat
Grilled Chicken Greek Salad
A "Big Greek" salad with marinated grilled chicken
A "Big Greek" salad with crispy house made falafel
Yia Yia Lea's Grilled Shrimp Salad
A "Big Greek" salad with marinated grilled shrimp
All Pita Sandwiches are topped with Tzatziki, Tomato and Onions. Served with Feta and Pepperocini. Add French Fries $3.50, Add Greek Fries $4.50 Add Feisty Feta $1.00. Make It a Platter with Choice of Two Sides $6.00. Served Open Face on Request
Shaved beef and lamb served on pita bread
House made chickpea fritters on pita bread
Beef and Iamb patty with herbs and spices
With Grilled Chicken – $10.50
With Grilled Pork – $10.50
With Grilled Shrimp – $11.75
Seasoned beef burger with tzatziki, feta cheese, lettuce, and tomato on a brioche bun
Pork skewer, chicken skewer, and gyro
Grilled marinated (4) lamb chops
Spinach and feta wrapped in crispy  phyllo dough and baked to perfection
Layers of sautéed eggplant and ground beef topped with béchamel
Panko breaded crispy fried flounder served with skordalia
Wild-caught salmon served with your choice of two sides
Layered with rice, red cabbage, carrots, romaine lettuce, red onions, tomatoes, lemon olive oil vinaigrette, house made tzatziki, red pepper hummus and pita on the side. Choose one of the proteins below to add.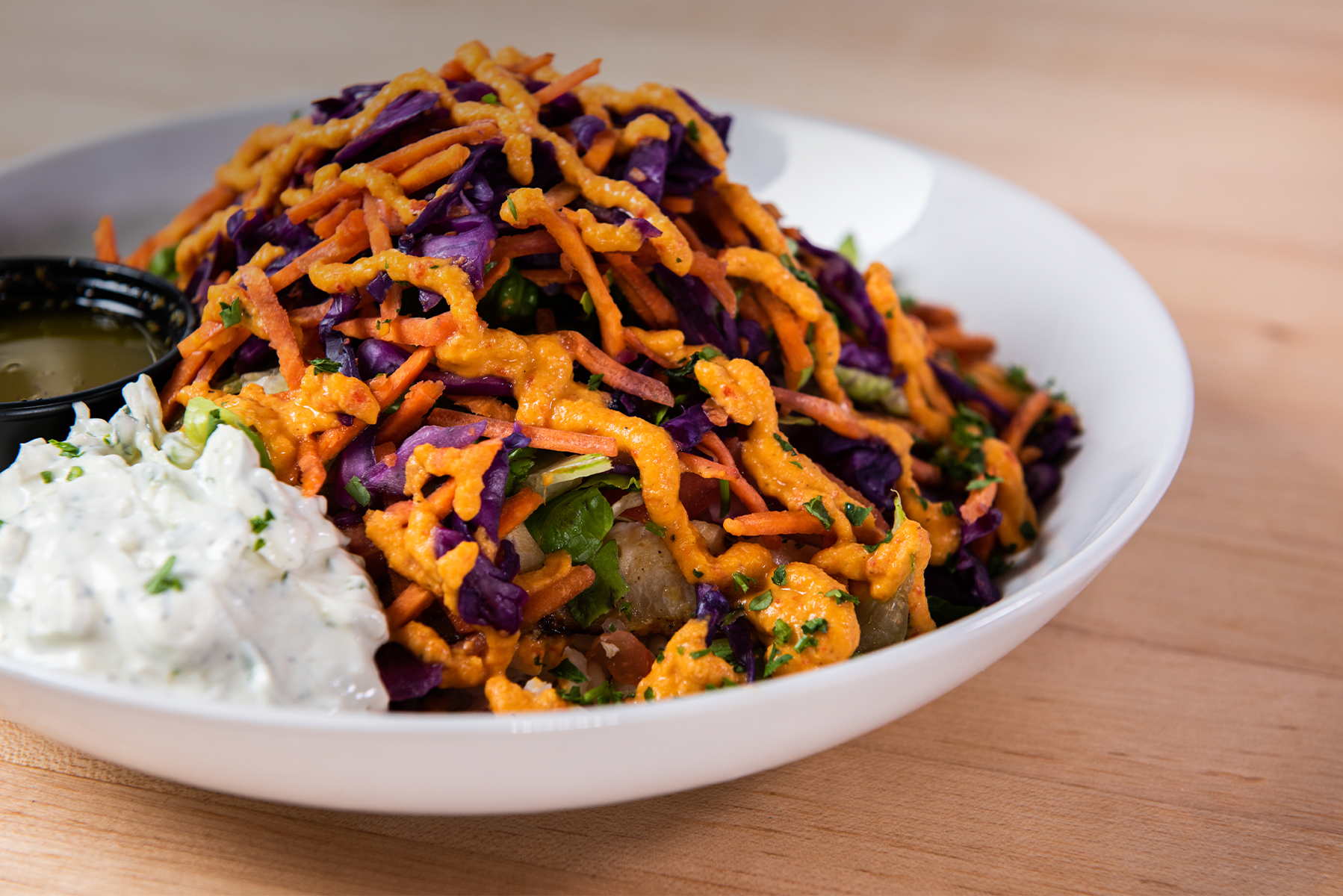 Oven-roasted with olive oil, lemon, garlic, and oregano
String Beans with Tomato Sauce
Simmered with butter, garlic and seasoning
Orzo Pasta with Tomato Sauce
Orzo pasta topped with house-made tomato sauce, parmesan cheese and parsley
Our Famous "Big Greek French Fries"
French Fries tossed with feta cheese, oregano, and other herbs. Served with tzatziki for dipping!
A miniature version of our large Greek Salad
Steamed Broccoli / Carrots
All items served with fries unless specified
Marinated grilled chicken served with orzo pasta and tomato sauce
Filo pastry with walnuts, butter, cinnamon soaked in our honey syrup
Layers of baklava stuffed with cheesecake topped with powdered sugar
HOME OF THE $6 GYRO WEDNESDAYS
Every Wednesday we offer our famous Gyros for only $6!